Introduction
A second season of large-scale excavations was carried out in April-May 1999 for 5 weeks at Neolithic Ba'ja, southern Jordan, in cooperation and with the support of the Department of Antiquities, Amman. Under the directorship of Hans Georg K. Gebel, assisted by Bo Dahl Hermansen as deputy director, a team from Germany, Denmark and Finland explored more 200 m2 of Late PPNB architecture of this remote Neolithic village in the rugged sandstone mountains north of Petra. The project continues under the sole auspices of ex oriente at Free University of Berlin (for the previous season cf. Neo-Lithics 3/97), and maintains a collaboration with the Carsten Niebuhr-Institute at Copenhagen University .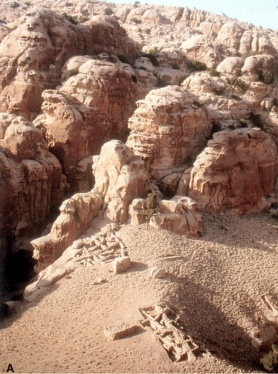 Ba'ja increasingly provokes discussion among Neolithic prehistorians about its unique setting: it is the only early village found in such a protected setting difficult to access. Ba'ja continues to fuel arguments that already by the 7th millennium B.C. territorial conflicts might have caused raids in sensitive environments like those Early Holocene Greater Petra, and such conflicts affected settlement pattern organization and the choice of site location. Competition for restricted habitats, even those degraded by human impact in this period of dense population, is our explanation for the dramatic location of the site. But we certainly do not expect that Ba'ja is "unique": we anticipate more LPPNB villages like Ba'ja in the rugged Greater Petra area, and we will start this coming April to search for them.
Ba'ja also is a production centre for a widespread prestige good that was traded along the Rift Valley some 9000 years ago: sand-stone rings are represented by broken finished products as well as by their production waste and as stored pre-forms. As in the flint industry, a division of labour can be seen in the production stages.
Angela von den Driesch (Munich) reports from the animal bone analysis that hunting for fur is in evidence (leopard, foxes, hyrax).
Related Downloads

H.G.K. Gebel and B.D. Hermansen, Ba'ja Neolithic Project 1999 : Short Report on Architectural Findings. Neo-Lithics 3/99: 18-21.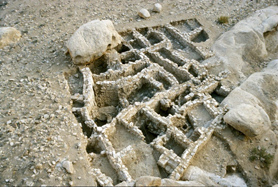 Fig. 2. Neolithic Ba'ja: hird's eye view of Area D. Photo by B. Borowski