The 1997 Season at Ba'ja, Southern Jordan
Hans Georg K. Gebel, Free University of Berlin
Hans-Dieter Bienert, German Protestant Institute of Archaeology, Dept. Amman
The 1997 Season at Ba'ja, Southern Jordan
Site Setting and Topography (Figs. 1-3)
The LPPNB village of Ba'ja rests on an intramontane terrace some l0km north of Petra and 5km north of Beidha respectively. The location of Ba'ja, known locally also as "al-Mehmad", is at 35' 27' 45" E 130" 24' 55" N; the altitudes for the identified cultural layers on the site's area range from 1060 to 1095m according to the surveyors' work and are based on barometric readings. The mean annual precipitation is 200mm in the region. However, this figure does not explain much for the actual hydrology of the immediate site surrounding (Gebel 1990, 1992).
The Neolithic layers rest on a terrace that can be described as the remaining part of an intramontane playa-like fill within a basin. The present-day topographical units (Areas A-I) of the site must have basically developed their shape after the resolution of this catchment (Upper Pleistocene, if compared with other spots in the Petra region), after this fill was partly transported out of the basin while forming a deeply incised siq by the coarse-grained material transported down from the limestone plateaus in the east.
The site's (bordered by Siq al-Ba'ja to the S and by vertical rock formation in the N) longitudinal axis is oriented SW-NE and measures c. 290m, its width varies from c. 20m at the western and eastern accesses to about 90 m in the central parts. The area potentially occupied in the LPPNB is 1.2- 1.5ha, which means c. 5000m2 larger than preserved Beidha.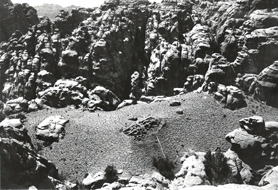 Fig. 1. Intramontane setting of the site with excavation in Topographical Unit C (photo: Schatz-Haerle)